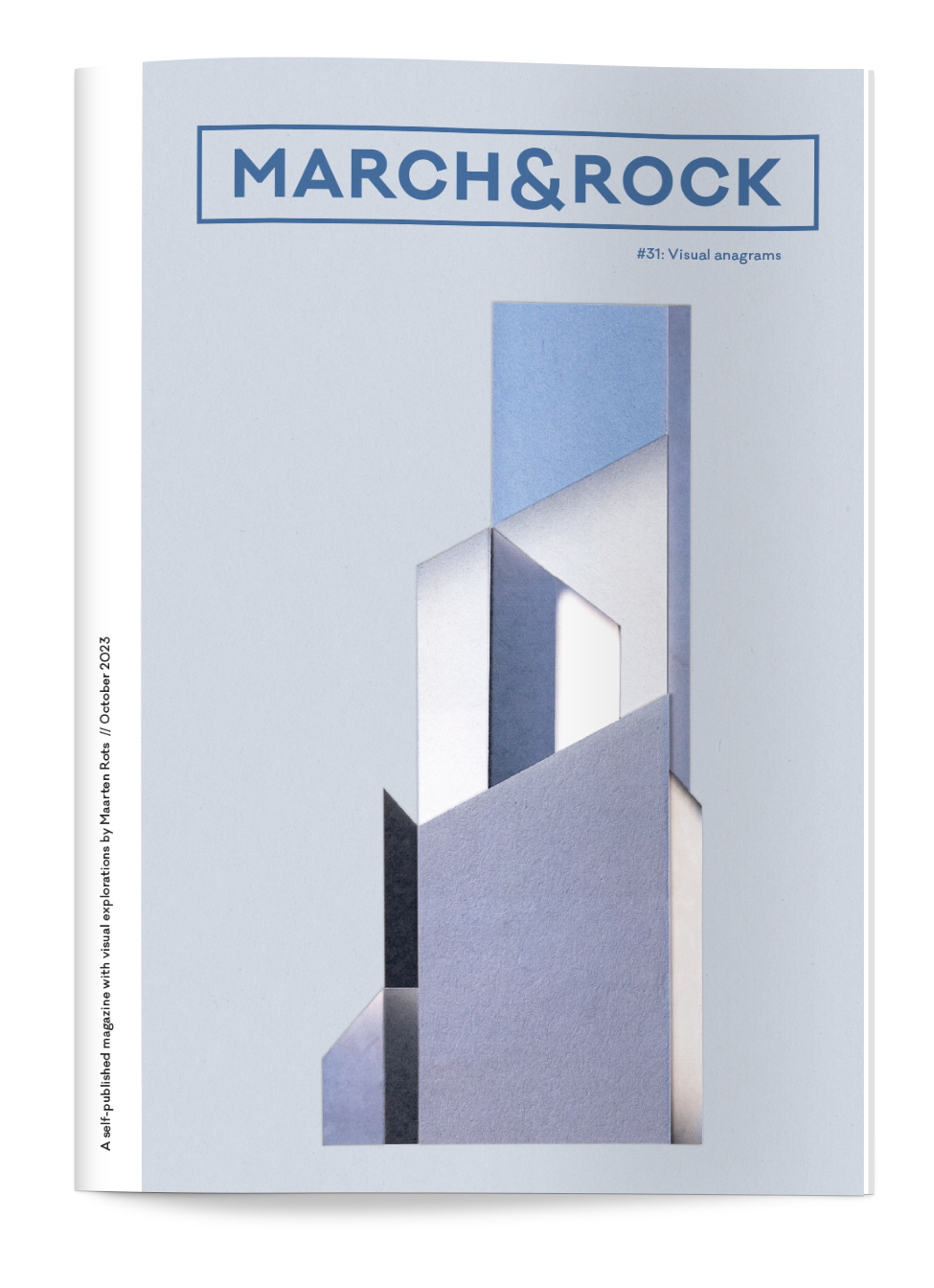 march & rock magazine
A self-published magazine of visual explorations by Maarten Rots
In 2015 I released the first edition of March & Rock.With 30 issues published to date and 4 new editions every year, a subscription is the best way to stay engaged with the development of my artistic output.
---
Insight into a developing practice
Follow along and see how I try out different approaches and discover new possibilities.Living in a self-built camper van I travel through Europe for the better part of the year. The new surroundings I immerse myself in inevitably seep through in my work. When I'm not on the road I continue my journey inside my studio where I explore the potential of light and shadow and also work with paint, collage and mixed media. Each new issue of March & Rock reveals how my current fascinations translate into photographs.Hand-numbered in a limited edition of 200 I release four new editions every year.
Browse the archive to view and purchase previous issues.
---
Subscribe to March & Rock magazine
Each year I release four new issues. As creativity doesn't adhere to a calendar, new releases are not always at a regular three month interval. When you subscribe, the latest edition will be sent on its way to your home immediately.
Subscriptions come in two varieties:
the magazine only subscription and the art print subscription
Your subscription will automatically renew after 12 months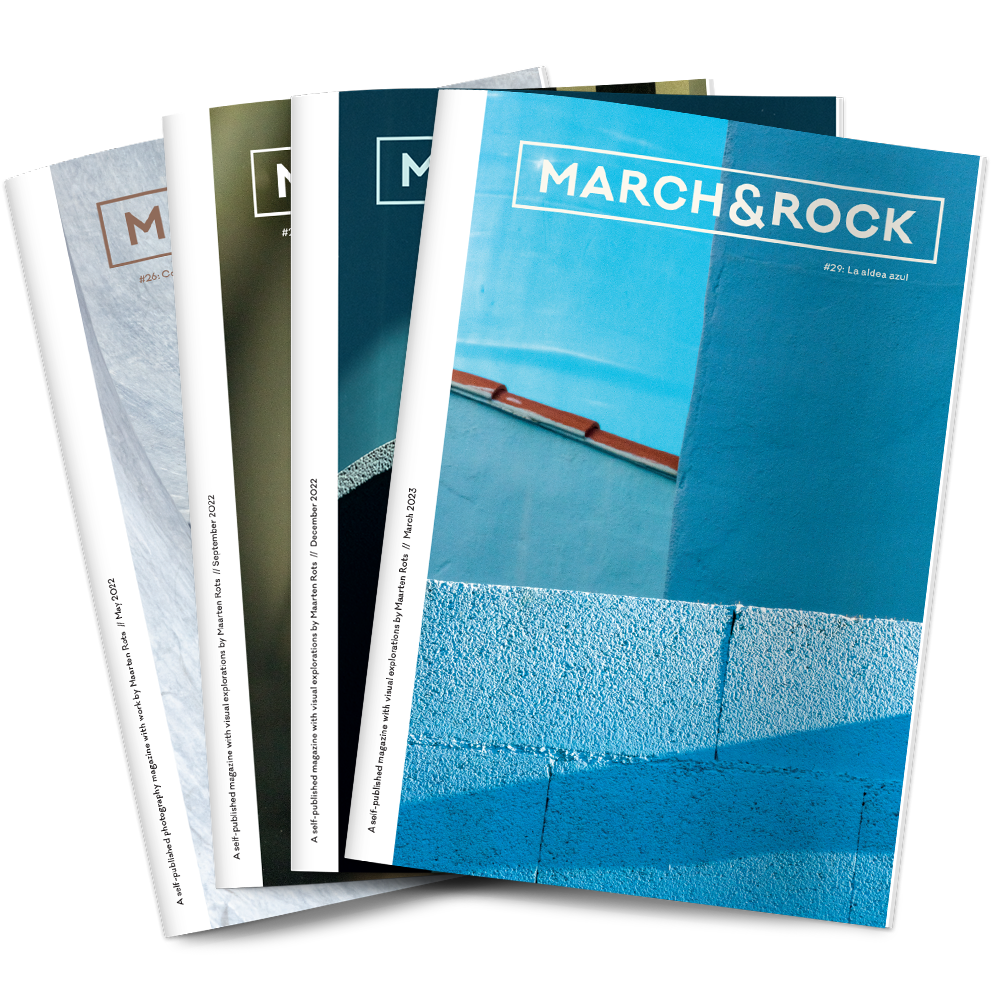 ---
current edition
#31: Visual anagrams
A5, 16 pages + 8 page foldout poster, full colour, digital offset print.
Published in October 2023
A visual anagram, like its literary cousin, is a new combination formed by rearranging all the individual parts that make up the original formulation. By cutting up prints of my photographs and moving the pieces around in front of me I find new compositions within the same set of elements. To preserve these temporary assemblages I photograph them and continue to explore other possible arrangements.When I applied to study at the Gerrit Rietveld Academie in Amsterdam in 2005, my portfolio mainly consisted of photographs and collages. Although I focused on other techniques during my studies, my interest in taking pictures and using existing imagery to create something new never faded.However, it wasn't until 2015 that I became serious about photography again and it was no sooner than 2021 that I eventually returned to collage. Nowadays, both mediums are firmly back at the heart of my creative process and with my visual anagrams I have developed a process where I can combine both techniques.
---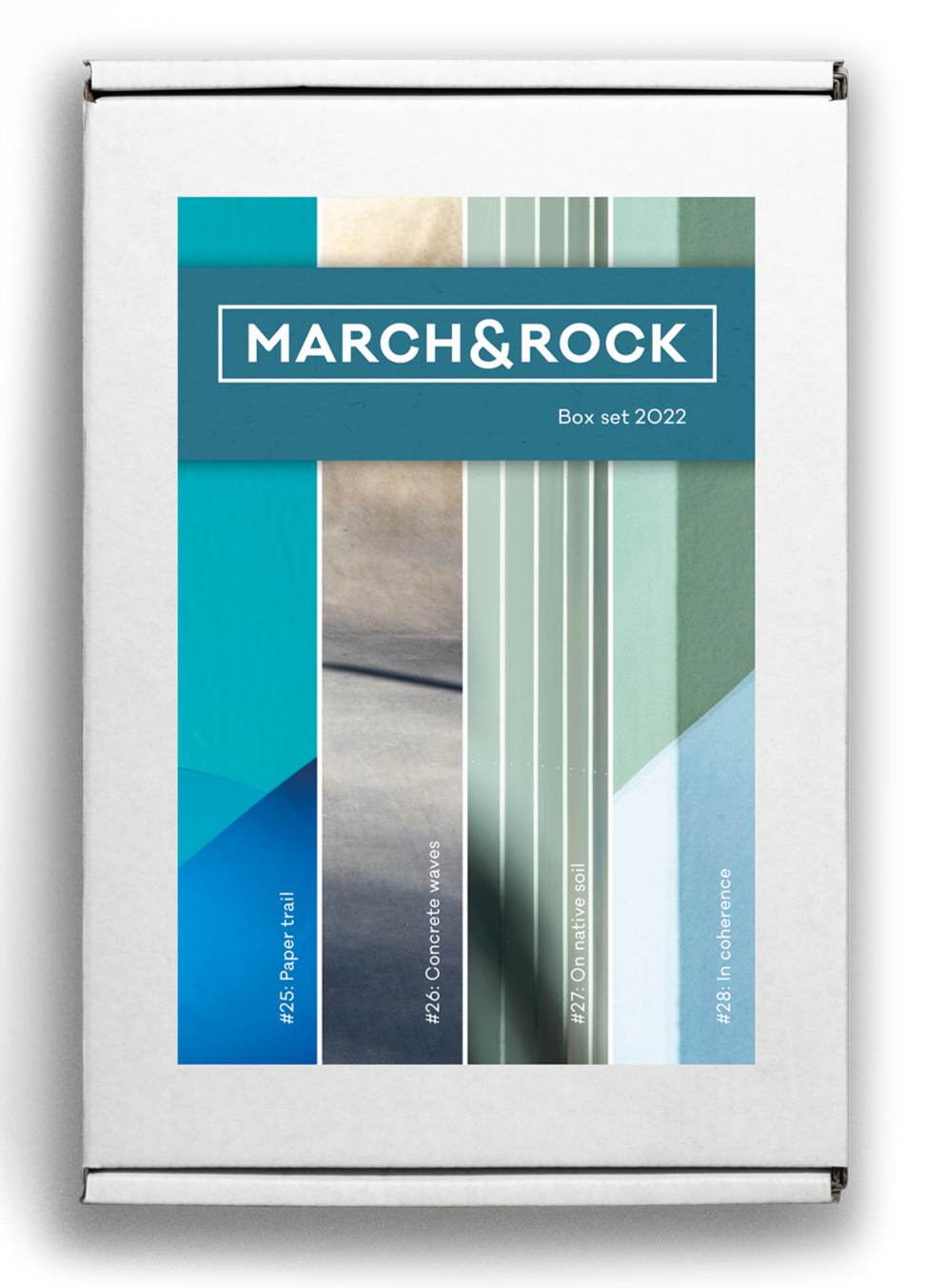 One year in a single box
The easiest way to catch up with a year of my work. At the end of each calendar year I release a limited amount of box sets, containing all four issues I published over the past 12 months.Box sets are available for 2020, 2021 and 2022, previous years sold out.
---
As the day progressed and the kilometres added up, fatigue made its appearance. At first I fought it, but eventually I understood that acceptance is the best response. Slowing down physically allowed me to get back up to speed mentally and regain my focus. It was interesting to experience how your state of mind influences what you see and where your attention goes. Accepting physical discomfort creates mental space and opens you up to your surroundings, allowing you to be more receptive.The moment the sun had turned the town gold, the whole city seemed to have come out to celebrate the last beams of light on this longest day of the year. I made my way past the crowd of modern day sun worshippers and picked up my tripod to go for another round of night photography to complete the project. Satisfied, tired, euphoric and still in discovery mode, I arrived back at the van minutes before midnight. This was definitely the longest day of the year.
---
Covering the buildings with a fresh coat of white paint to re-establish the village's achromatic appearance after the summer was part of the deal. Yet an unexpected, exponential rise in tourists visiting the village (a whopping 80,000 as opposed to a mere 300 annually in preceding years) and the accompanying prospect of new economic opportunities gave rise to a referendum; an absolute majority voting in favour of retaining the town's new likeness.At the mercy of the elements in the sunny climate of southern Spain, a total of four repaints so far have proven necessary in order to maintain the town's blue identity. But without recurring sponsorships and with the absence of a brand identity guide dictating a specific kind of blue++, some residents have begun to take it upon themselves to acquire wall paint of their own choice, varying in quality as much as in hue. Others seem to have given up on the costly habit of adding new layers of paint altogether, their dwellings sun bleaching, slowly fading back to white. The result is an amalgamation of facades covered in a nuanced spectrum of colours, ranging from white through blue into various shades of purple. A perpetually evolving panorama, never anticipated to outlast its intended brief existence.Fascinated by an underlying tale that touches on themes such as community, uniformity, conformity, individuality, commercialism and cultural heritage, I encountered a remarkable playground for my continuing explorations in abstraction through photography.
+) one owner stubbornly refused participation; his house was aptly nicknamed 'Gargamel's House' by the other residents
++) the original coating was based on Pantone colour 298 C
---
---
Coherence, like balance, is an act - not a permanent state. Remaining in a state of coherence demands an active attitude; we need to constantly and consciously remind ourselves of the possibility of steering ourselves towards it.When I walk around with my camera, I apply the above in a very pragmatic and straightforward manner. I actively work to be more aware and see my surroundings as a sum of their different parts, aiming to distinguish their various elements. I move in closer or step to the side; I change focus and decide what I keep in the frame as well as what I leave out by directing my view, and I compose my own subjective impression of the objective reality that I take part in. I capture the moment in a single exposure, but I walk away with more than just a photograph: a visual remainder that encapsulates an instant of the absence of incompatibility where everything sits in its right place for a split second.
---
---
---
---
---
---
---
---
---
---
---
---
---